LED controllers for fish tank lighting (fresh and sea water) and LEDs are in stock and available immediately. Nonetheless, please plan your demands in good time.
CoolTWILED 3.x is a wireless programmable 12channel LED controller/driver board. Configuration is possible via browser on almost any platform: Windows, Linux, Android, Apple IOS.
20 Watt CVU LEDs combine cyan (490nm), violet (420nm) and UV (380nm & 400nm).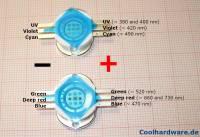 On request, CoolTWILED 3.x SLAVE is available with fan ports (so that two additional fans can be connected per board).
---
Please order via email
Available for ordering
Impressions
No longer available
Other projects